MUSIC PROGRAM
Music is a powerful, inspirational part of our weekly celebrations, amplifying our purpose and beliefs. Our music program, under the direction of Music Director, Geoffry Oshman, is blessed with a wealth of our own special talent who offer their musical gifts. Professional artists often join us in celebration through musical expression.


Celebration services, festivities and special gatherings at Creative Life are enhanced by a rich and diversified music program, offering a variety of music that spans many cultures. With encouragement we invite you to be part of our exciting musical community, there are opportunities for all ages to participate.  contact Music Director »
Are you a touring or local musician desiring to perform on a Sunday for us? Please e-mail our Music Director, Geoffry Oshman with your availability and one or two of your sound files and he will respond as promptly as possible with the next steps. We look forward to hearing from you.  contact Music Director »
---
Biography - Geoffry Oshman, Director of Music

Born and raised along the south Texas coast. Following completion of baccalaureate (pre-medical) studies at UT Austin, Geoffry left his studies to pursue music and seek fame and fortune in the rock and roll industry; a near fatal decision. Supplemented by a few private lessons with Robert "Dude" Skiles in Austin, Ricky Diaz in Houston, and Joe LoCascio in Houston, he is self-taught in the fundamentals of piano improvisation. He learned saloon and rock 'n roll combo playing style while sharing studio spaces in Austin, Texas and auditing some music classes at the University of Texas. He held several part-time jobs, including one as a psycho-acoustic research subject for a company fronted by the Department of Defense, where most of the employees (research subjects) were musicians who had hyper-acute hearing thresholds.


During 1977, with friends, he wrote and performed music in a 6th Street theater production of Sam Shepherd's "The Tooth Of Crime". During that time, he also composed and performed music for the late Powell Shepherd, dancer, choreographer, painter, composer, and writer. The collaborations were staged in Galveston, within CAP (Contemporary Arts Performance) Theater in Houston.


After playing on the road in Branson, Missouri, in the Texas valley, and venues around Houston, from 1977 to 1982, he studied business accounting while working with a CPA in music retail. After a sabbatical of globe trotting from 1983-1984, he settled into a steady work mode as a financial controller. Continuing his hobby of playing piano, Geoffry enrolled part time at Houston Community College under the tutilege of jazz pianist Joe LoCascio, that led to his introduction to Rev. Jesse Jennings. In 1995 he was welcomed as CLC's director of music. Geoffry is a Certified Financial Planner™ practitioner and business financial controller.


---
"Loose Shoes" - 1987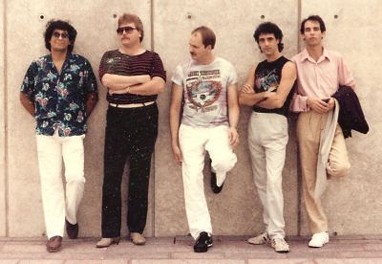 "Loose Shoes" Musicians
Bob Lee, Dennis Maroney, Craig Pehrson, Peter Trout, Geoffry Oshman
Special acknowledgment to Peter Trout, drummer and musician, for his long time friendship and guest appearances at Creative Life.


---